Feature image from www.library.harvard.edu.
---
Libraries are more than just a place to cram during finals week. Not only are they are home to countless books and rare documents, library buildings also display impressive feats of architecture. These spaces have rich histories, from the accomplishments of their namesakes to the people who have traversed the halls since they were built. Below are some of the most impressive libraries the Ivy League has to offer; they are well worth a visit if you ever get the chance!
Harvard University: Harry Elkins Widener Memorial Library
As Harvard was the first university to be founded in America, it should come as no surprise that the university is also home to the oldest library system in the country. Containing treasures such as one of the original copies of the Gutenberg Bible, this library is the centerpiece to the world's largest academic library system.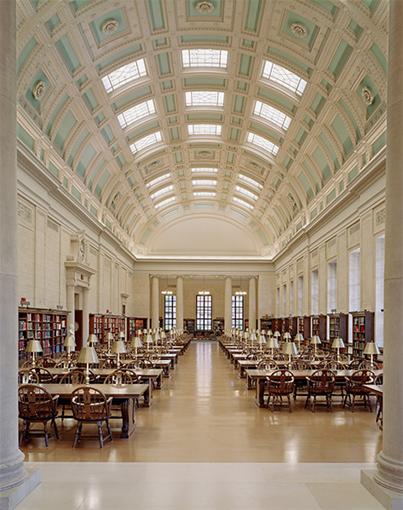 www.library.harvard.edu                                                                             www.writemyessayonline.com
Number of books housed: 3,000,000
Namesake: Harry Elkins Widener (Class of 1907), whose mother funded the building of this library after the Titanic claimed both her son and husband.
Architect:  Horace Trumbauer & Associates
Year Built: 1915
Number of floors: 10
Special Features: You can take a virtual reality tour, complete with a narrator guiding your exploration through the stacks and beyond.
Columbia University: Nicholas Murray Butler Library
The largest of Columbia's 25 total libraries, Butler Library is the go-to study space for undergraduates and graduates alike. Like its surrounding city, Butler Library has associations with various movies, such as being the filming location of the university scenes in the movie Ghostbusters, and the fifth floor hallway providing inspiration for Stanley Kubrick to design the hallway in The Shining.
www.blogs.cul.columbia.edu                                       www.wikimedia.com
Number of books housed: 2,000,000 volumes
Namesake: Nicholas Murray Butler, President of Columbia University from 1902-1945
Year Built:1934
Architect: James Gamble Rogers
Number of floors: 8 (15 levels of stacks)
Special Features: 18 names of famous scholars throughout history are carved into the facade of the library, wrapping around three sides of the library. These names were personally chosen by the library's namesake, former university president Butler, and all but one of the names (Demosthenes) have been required reading at one point in the well-known Core Curriculum.
Princeton University: Harvey S. Firestone Memorial Library
With more than 70 miles (110 km) of shelves spanning its floors, the Firestone Memorial Library is one of the largest open stack libraries in the world. It acts as the central library for the university's library system, housing books on the social sciences and humanities.
www.staticflickr.com                                                   www.news.princeton.edu
Number of books housed:11,000,000
Namesake: Harvey S. Firestone, tire magnate
Year Built: 1948
Number of floors: 6
Special Features: Not only does the library house the Rare Books and Special Collections department, there is a specific part of the department dedicated to children, the Cotsen Children's Library. In addition to books and manuscripts dating back to the 15th century, the Cotsen Library also has a gallery dedicated to displaying illustrations and toys.
Brown University: John Hay Library
The second oldest library on Brown's campus, Hay Library is the main holding place of Brown University Library's special collections. Totaling over 3,000,000 items, this collection includes rarities such as Walt Whitman's personal copy of Leaves of Grass and 6,000 toy soldiers.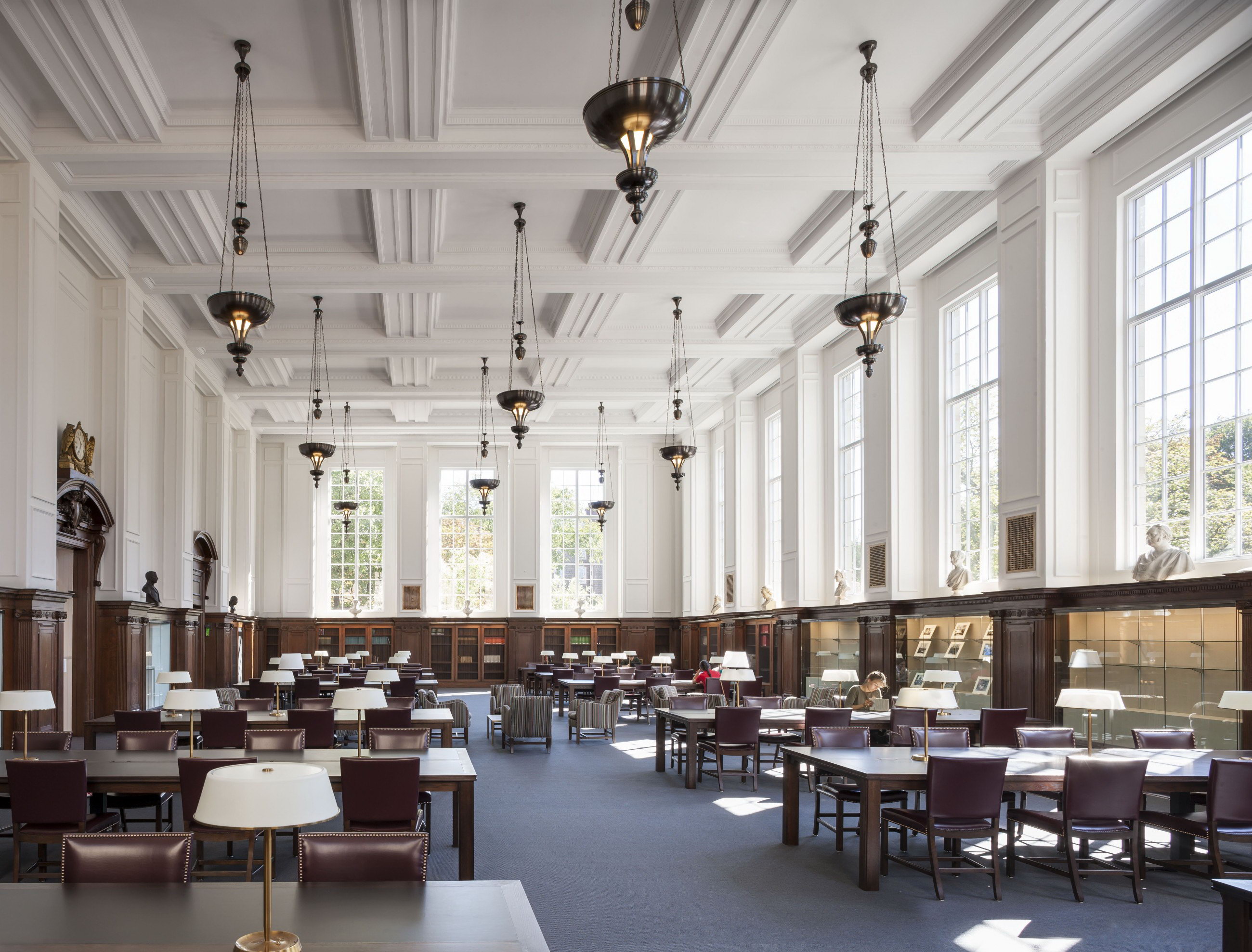 www.selldorf.com                                                        www.library.brown.edu
Namesake: John Hay (Class of 1858), personal secretary to Abraham Lincoln
Year Built: 1910
Architect: Shepley, Rutan, and Coolidge Architectural Firm
Historical Facts: Chiefly funded by Andrew Carnegie, who requested the library be named after John Hay. The building was designed in the English Renaissance style.
Special Features: Holds world's largest collection of personal manuscripts and letters by H.P. Lovecraft (American author renowned for his work in horror fiction).
University of Pennsylvania: Anne and Jerome Fisher Fine Arts Library
Inspired by nearby factories at the time, the Fisher Fine Arts Library boasts an architectural combination of towers, chimneys, and clerestories, all composed of vibrant red brick. It's only fitting that this bold statement of a building is closely associated with the creative fields, housing books in "art, architecture, city and regional planning, historic preservation, landscape architecture, studio art, and urban design."
www.wordpress.com                                                     www.facilities.upenn.edu
Year Completed: 1891
Namesakes: Anne and Jerome Fisher, main donors to the major restoration project
Architect: Frank Furness
Number of floors: 5
Historical Significance: Named to the National Register of Historic Places in 1972 and a National Historic Landmark in 1985, the Fisher Fine Arts Library was one of the filming locations of the critically-acclaimed movie Philadelphia.
Dartmouth College: Baker-Berry Library
Modeled after Independence Hall in Philadelphia, Baker-Berry Library stands as the central beacon of campus, its tower visible to all. With a new complex added less than two decades ago, this library has everything a student could want, from modern media centers to cozy study spaces to a cafe for midnight snacks.
www.collegerank.net                                                                       www.communications.darthmouth.edu
Number of books housed: >2,000,000 volumes
Namesake: Fisher Ames Baker (Class of 1859), uncle of George Fisher Baker, whose gift funded the construction of Baker Library, and the Berry family (John W. Berry, Class of 1944, and son George Berry, Class of 1966), who was the main donor in the addition of Berry Library
Architect: Jens Frederick Larson (Baker), various architectural firms (Berry)
Year Built: 1928 (Baker), 2002 (Berry)
Number of floors: 4 (Baker), 6 (Berry), 10 (stacks)
Special Features: The libraries host multiple exhibits at any given time, from graphic novels depicting the Chinese Cultural Revolution to Surrealism and the Spanish Avant-Garde; it's like a museum of history, art, and literature all combined into one.  
Yale University: Sterling Memorial Library
Consistently claiming the title of "Best College Library in America," this library is an imposing piece of Gothic Revival architecture often referred to as the visual centerpiece of Yale's campus. In addition to the breathtaking interior design, the library also has an expansive courtyard and nave that can be booked for large, private events.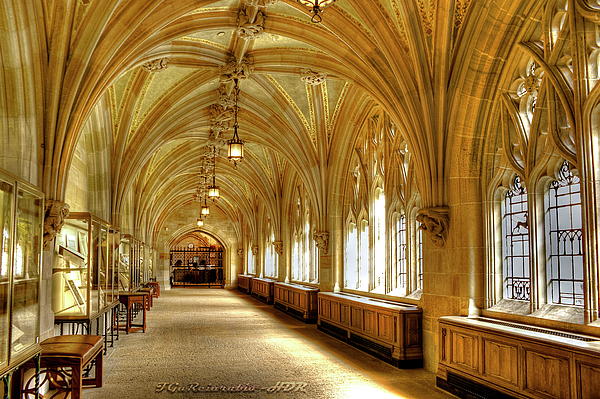 www.blog.ctnews.com                                                         www.images.fineartamerica.com
Number of books housed: 4,000,000 volumes
Namesake: John William Sterling, Yale Class of 1864, main benefactor of the library
Architect: James Gamble Rogers, Yale Class of 1889
Year Built: 1931
Number of floors: 7 (16 levels of stacks)
Special Features: Each area of the library contains artwork that reflects the intended use of the space. For example, the room originally intended as the English Study contains numerous depictions of Shakespeare characters on the windows. The library also contains an extensive collection of stained glass windows, totaling 3,300 across all floors.
Cornell University: Andrew Dickson White Library
Housed within the larger Uris library, this space is famous for its uncanny resemblance to the library featured in Harry Potter films, from the gilded railings to the rich warmth provided by the deep red carpeting. The library originally housed White's personal collection of 30,000 books, all of which he donated to the University Library System in 1891.
www.theexplorographer.com                                    www.theexplorographer.com
Architect: William Henry Miller (Cornell's first architecture degree graduate, Class of 1872)
Number of floors: 3
Namesake: Andrew Dickson White, co-founder and first president of Cornell University
Special Features: Displays art, artifacts, and furniture from White's diplomatic career in Germany and Russia
Noted Collections: Witchcraft, Architecture, French Revolution, Civil War and Abolitionism
Historical Significance: First library designed specifically for undergraduates; remained open for nine hours a day when other libraries were only open for a few hours a week to allow faculty to borrow and return books.
June is a junior at Cornell University studying biology. She attended public high school in the Philly suburbs, where she ate lots of water ice and hoagies. June enjoys watching TV, playing candy crush, and reading the New York Times. Writing poetry and knitting kept her sane during admissions season, plus a lot of chocolate and hugs; she made it out alive, and is all the more introspective and aware thanks to the experience.